Table Rock, Nebraska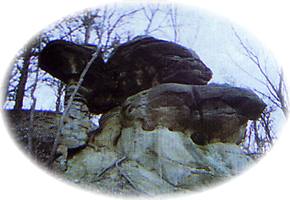 Table Rock's beautiful village park and original commercial buildings are listed on the National Register of Historic Places. Its one-of-a-kind museum consists of seven buildings. Stop at the cemetery to see unusual pioneer graves. One mile east of town are Indian Petroglyphs located at the site of the original Table Rock, the rock for which the town of Table Rock is named.


The development of Table Rock during the nineteenth and twentieth centuries is typical of communities in southeast Nebraska. During the nineteenth century, Table Rock suffered through floods, failed to win the county seat, was bolstered by the arrival of the railroad, flourished during the prosperity of the eighties, and suffered again during the depression of the nineties. The town boomed again during the early twentieth century, then experienced a disastrous fire and declined as the century progressed. In the planning of its public square, however, Table Rock is atypical. The large expanse of green space framed by unusually wide streets and surrounded by a mix of commercial and residential buildings is unique for a town its size in southeastern Nebraska.
---
Attractions near Table Rock, Nebraska
In 1922 Keya Paha County Commissioners and representatives from Tripp County, South Dakota, awarded a contract to the S...
---
Table Rock Nebraska Related Videos
Table Rock, Nebraska, my hometown. These are pictures that I've taken in the last couple years of places in Table Rock.
Today is June 22, 2014. There was a bit of rain this morning and the rivers and creeks around Table Rock are up. I shot views from 5 bridges, looking down at...
This video shows you how to say or pronounce Table Rock, Nebraska. A computer said Table Rock, Nebraska. How would you say Table Rock, Nebraska?
The sawmill of Table Rock Lumber in Table Rock, Nebraska was built in 1969. In 2013, Marvin Edwards, owner of the mill, quarter sawed a cedar log, the last l...
Maybe they are still frowned on, but there seem to be a lot more thistles around than there use to be.
Here is a compilation of several Table Rock Parades and 1 Humboldt Parade that were taken during what looks to be the 1950's by my father.