category : Activity Centers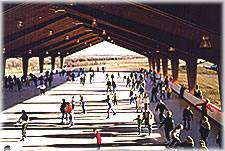 From horseback riding to swimming and sliding, Eugene T. Mahoney State Park offers activities to suit anyone\'s recreation agenda, and now the park offers even more with its new Activity Center and Ice Skating Pavilion.
Equipped with refrigeration units, the Pavilion will offer ice skating from November through March. In other months, it will host gatherings of up to 1,000 people for family reunions, meetings and other events. The Activity Center has a snack bar, an indoor playground and computer games simulating golf, rock climbing, firearm and archery hunting and other sports.
Hours/2013 = Mon.Thurs.Fri. = 4pm to 8pm
Sat. = 11am to 8pm
Sun. = 11am to 6pm
CLOSED TUES. AND WED.

Admission: $2.00 (Children two and under free); Plus fees for Special Activites
Address: 28500 W. Park, I-80, Exit 426
Phone: 402 944-2523
Fax: 402-944-7604
Our Email: Mahoney@ngpc.ne.gov

Come visit us in Mahoney State Park, Nebraska