Popular Attractions in Piedmont Region
Fourth Creek Burying Ground
Statesville, NC | Category: Other Attractions
1756-1888. Statesville's only cemetery until the late 1880's. Bounded by a rock wall which contains on the NE corner one of the four original corner posts of the city! Cemetery containes graves of many Revolutionary War soldiers and many ornate and interesting markers.
<
Fourth Creek Burying Ground
Lakes in Piedmont Region
Jordan Lake
Region : Piedmont Region, NC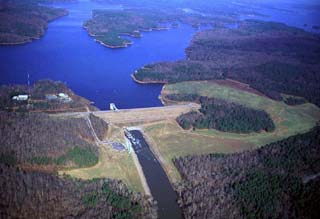 Jordan Lake with 13,900 acres and 200 miles of shoreline is located within a 45-minute drive from Raleigh and Durham. Boat launching, picnicking, swimming beaches, campgrounds, fishing, and public marina facilities are available for public use.
Jordan Lake