Alma, Nebraska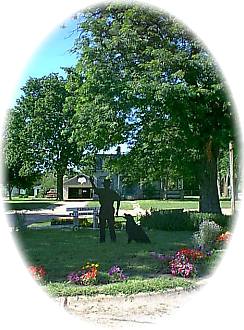 Alma is a community that has a rather unique blend of young business people and many retirement age citizens. Both the young and old alike appear to be attracted to the community which provides easy access to the Harlan County Reservoir area along with a wide array of municipal services.
For the sport and recreational minded, Alma provides a beautiful city park, a city campground, a refurbished swimming pool, new tennis courts, new ball park, a running track, bowling alley, movie theater and a top notch nine-hole grass greens golf course. Nearby is excellent habitat for hunting upland game birds, deer and waterfowl.
Residents of Alma are proud of both its agricultural heritage and its more recently acquired recreational attributes and feel that the combination of the two has given the community both stability and a bright future.
Alma, named for the daughter of N.P.Cook, was "charted" on their area map in 1871 after a cavalry unit from Fort McPherson had chased hostile Sioux and Cheyenne Indians out of the valley.
Later that year, when Harlan County was organized, a battle-royale ensued for the county seat. Three contested elections were held in 1871-72 with first Alma, then Republican City, and finally Melrose, receiving the highest number of votes.
William Gaslin, a lawyer, tested Alma's right to the county seat by virtue of the first election. His position was honored at a hearing held at Republican City, and according to the story, the county records were removed from Melrose (with a little night time chicanery) and taken to Alma. The town was still only a small settlement, shaky at best, but held on until the Burlington & Missouri River Railroad came up the valley in 1880, giving it a more stable existence.