category : Theatres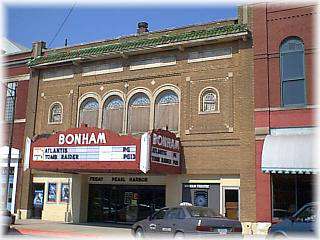 Both the Bonham Theatre, and the First National Bank, located on the northwest corner of Fifth and E streets, were at one time owned by Luther Bonham.
Bonham Theatre's exterior was designed in Spanish Colonial Revival style and features a projecting ceramic tile cornice, arched windows, ornamental brickwork and a neon marquee sign.
The theater, built in 1926, featured vaudeville acts and picture shows in the early days. Between double features in the 1930s, talent shows were conducted with local talent. Dressing rooms were located in the back of the theater.
A small movie screen was lifted to the ceiling for the live acts to perform on the stage behind the screen.
Today the Bonham Theatre is strictly a movie theater and the First National Bank building houses the bank and the Burkley Family Center.

Address: 519 E. St.

Come visit us in Fairbury, Nebraska