category : Historic Churches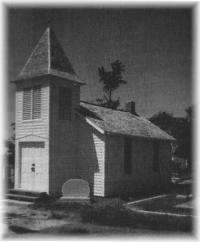 The Chapel at Ceski Bratri Cemetery is the oldest Czech Catholic Church building in Nebraska. Built in 1874 just northwest of the cemetery, it was moved to the current location in 1901. The earliest marked gravestone is dated 1876, but many unmarked graves represent earlier burials of travelers from passing wagon trains.
The chapel was completely restored to its original appearance in 1998; you can even ring the bell in the belfry. The original interior was repaired and cleaned. Its doors have re-opened for graveside services in inclement weather, private prayer, or just to visit. As a memorial to veterans buried in the cemetery, their obituaries and pictures are placed in the chapel.
The hillside west, across the country road from the cemetery was the site of a pioneer brickyard from which bricks of many Milligan buildings were fired.

Address: 1 mile west of Milligan on Hwy 41

Come visit us in Milligan, Nebraska