category : Ethnic Heritage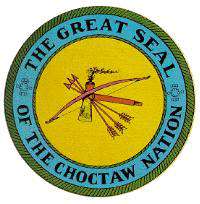 The Choctaw Nation of Oklahoma is an American Indian Tribe organized pursuant to the provisions of the Act of June 26, 1936-49. Stat. 1967. and is federally recognized by the United States government through the Secretary of the Interior.
The Choctaw Nation of Oklahoma consists of ten and one-half counties in the southeastern part of Oklahoma. The Choctaw Nation is bounded on the east by the State of Arkansas, on the south by the Red River, on the north by the South Canadian, Canadian and Arkansas Rivers. The western boundary generally follows a line slightly west of Durant, then due north to the South Canadian River.
The creation of the Choctaw Nation official seal was set forth according to the following proclamation.
"The Principal Chief shall procure, at an early day, at the cost of the Nation, a great seal of the Nation, with the words "the great seal of the Choctaw Nation" around the edge, and a design of an unstrung bow, with three arrows and a pipe hatchet blended together, engraven in the center, which shall be the proper seal of this nation until altered by the General Council, with the concurrence of both Houses thereof." Act of the Choctaw General Council, Doaksville, October 1860

Our Website:www.choctawnation.com

Come visit us in Tuskahoma, Oklahoma