category : Museums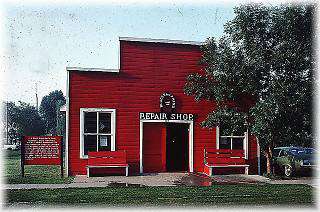 The blacksmith shop was built in 1901 by C.O. Cook, who operated his business for over thirty years. The building, which is listed on the National Register of Historic Places, is owned by the Ponca Historical Society which uses the shop as a living history museum, and is representative of the vital role of blacksmiths in the history of American communities.
The 1884 shop with all its original tools and machinery has been restored and placed in working condition. Great pride was taken in the shape and beauty of the finest leather bellows that forced draft into the forge fire. Many forge tools are organized on the walls displaying many that were handmade. The gas engine provides power for the belt driven machinery such as the sharpening and polishing machine, the disc sharpener, the 1894 trip hammer with special dies, and the roller bearing tire bender that will bend tires 24 inches in diameter and larger. The Hydraulic Cold Tire Setter develops 39 tons of pressure to shorten tires during the dry weather season when wagon wheels shrink and tires become loose.
This shop today can provide the same equipment for anyone interested in going back and starting over to become a smithy.

Hours: Hours: Saturday's from 2:00 to 4:00, May through September (Begin at the Adams House)
Address: 204 Third Street
Phone: 402-755-4165

Come visit us in Ponca, Nebraska