category : Historic Churches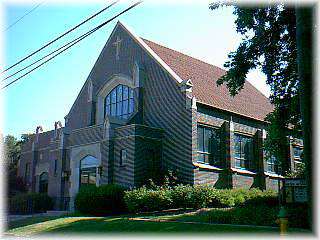 The religious work done by the circuit riders in the 1860s and early 1870s which included Rev. C.W. Comstock and Rev. M.M. Smith laid the foundation for Methodism in the South Platte Mission, which included all of Saunders County except Ashland. In the spring of 1872, Rev. Richard Pearson was petitioned to serve Wahoo and a permanent Methodist Class was organized with 16 charter members. This was the beginning of the Wahoo Methodist Church.
Church was held in school and homes until 1881 when the first wooden church building was completed on the present site. In 1923, the brick church was completed with a gymnasium. The gym was well used by area schools, Boy Scouts, and the community for many years. In 1956, it was filled with sand creating more usable space in the basement. A 22' x 71' addition was added to the east side of the church structure along with remodeling in 1980.
The church's Gothic style structure is distinguished by a steep gabled sanctuary roof, pointed capitals at pilasters, external structure expression, a large central stained glass curvilinear window and leaded stained glass. The 125th anniversary of the church was celebrated in 1997.

Address: 7th and Beech

Come visit us in Wahoo, Nebraska