category : Museums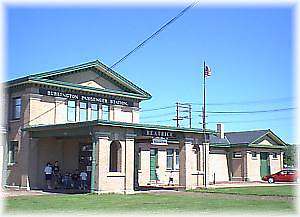 Gage County Historical Society and Museum is housed in
the Burlington Railroad Depot built in 1906 in the Neo-Classical Revival style. The building was constructed of Omaha pressed brick with Bedford stone trim at the cost of $35,000, and is listed on the National Register of Historic Places. On October 1, 1908, presidential candidate William Howard Taft stopped at the station to speak from his train to an estimated crowd of 12,000.
The Burlington Passenger Station was built for the Chicago, Burlington, and Quincy Railroad and brought immigrants from all over the world via Ellis Island. The lure of free land and modern transportation prompted the growth of Beatrice and all of Southeast Nebraska. Four railroads eventually served Gage County and the only surviving depot is the Former Burlington Passenger Station preserved now in housing the Historical Society Museum.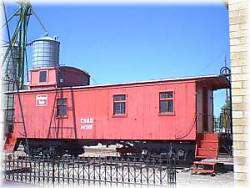 The Museum has permanent exhibits on businesses, industries, and the medical/dental history of Gage County, a large collection of the medical-dental history of the county from the 1850s to the 1950s. A hospital dedicated to medicine for women was opened here in 1899. Of the 274 doctors who practiced medicine in Gage County form 1880 to 1927, 17 were women. Likely the first woman doctor in Nebraska was Phoebe Oliver, who was "Medicine Woman" on the Otoe Missouri Reservation. Dental tools, some of which date to the era of the Civil War, are part of the exhibit.
Learn more about the home of Beatrice Foods and Meadow Gold products, famous movie actor, Robert Taylor, and Harold Lloyd, Dempster windmills, Kees Manufacturing, the oldest manufacturing company in Nebraska, and the people of the county.
Part of the Historical Society's property is the Elijah Filley Stone Barn located two miles south of Filley, Nebraska. This barn is the largest limestone barn in the state built in 1874, also listed on the National Register of Historic Places.
Genealogy - Many people use the Museum's collection for genealogical research. Staff is available to guide the researcher in finding those relatives who made their homes here. The towns of the county and their people are of major importance in telling our story and each has an exhibit.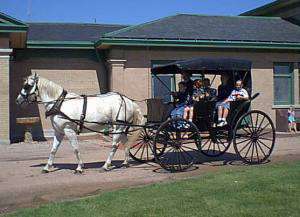 Admission: Admission is free and tourist information is available at the Museum.
Hours: Open Year Round, Tuesday through Friday, 9:00 am to 12 noon, and 1:00 to 5:00 pm
Extended Summer Hours: Memorial Day - Labor Day, Saturday's, 9:00
Address: 2nd & Court Streets
Phone: (402) 228-1679

Come visit us in Beatrice, Nebraska