category : Museums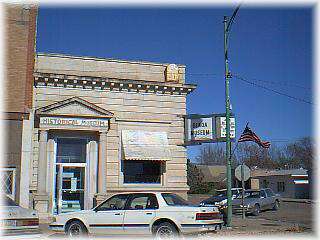 The Genoa Museum contains one of the largest collections of Pawnee weapons, tools, relics, and artifacts. The Exhibit is from the Allen B. Atkins Collection.
Included in this museum are items that help tell the story of the first way station settled by the Mormons as they traveled west. Two original diaries written by Henry Hudson are part of the Mormon Exhibit. A gift from the Latter Day Saints in Salt Lake City, Utah, called Faith in Every Footstep is on exhibit. Original wagon ruts of the Mormon Trail are visible south of Genoa.
Many antiques from the early days of Genoa can also be seen.
The Indian School Museum, one of the largest, most successful, and longest-lived of the federal Indian schools, is open through the Genoa Museum and contains artifacts of the school's history, including original wall murals painted by the Indian boys and a scale model of the campus' 640 acres and over 30 buildings.

Admission: Donation $.75 each for groups.
Hours: HOURS: Friday, Saturday, and Sunday, 2:00 to 4:30 pm, and by Appointment.
Address: 402 Willard Ave
Phone: (402) 993-2330

Come visit us in Genoa, Nebraska