category : National Register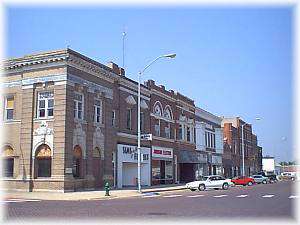 The Fairbury Commercial District, consisting of a 10-block downtown area of 97 contributing buildings, was officially entered in the National Register of Historic Places on June 20, 1997. The Historic District is representative of architectural styles utilized in the evolution of a typical Nebraska regional trade center, according to Nebraska State Historical Society preservation specialist Bill Callahan. "This district exhibits densely placed historic buildings, displaying high integrity," he said. "The brick pavement, which fills virtually all of the district's thoroughfares, contributes to the architectural cohesiveness of the downtown area."
Commerical trends in the district are represented by styles and property types found in typical Nebraska business districts. The period of significance of the district, which dates between 1873 and 1947, is supported by Fairbury's location along the former Rock Island Railroad main line, according to Callahan.
The growth and prosperity of Fairbury are represented by an abundance of early high style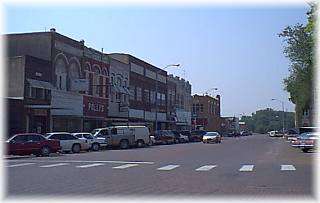 commercial buildings such as Italianate, Romanesque Revival, Queen Anne, Late Gothic Revival and Neo-Classical Revival. The district exhibits a healthy construction atmosphere throughout the first four decades of the 20th century and retains a significant number of these buildings, according to Callahan. Between 1900 and 1929, a total of 64 buildings were constructed. The properties comprise 55 percent of the buildings in the district. One of the strongest construction periods occurred during the 1920s, with the construction of 25 buildings.
The National Register of Historic Places is the nation's inventory of properties deemed worthy of preservation, according to Callahan. It is part of a national program to coordinate and support local and private efforts to identify, evaluate and protect the nation's historic and archeological resources. The National Register was developed to recognize historic places that contributed to our country's heritage.
Come visit us in Fairbury, Nebraska