category : National Register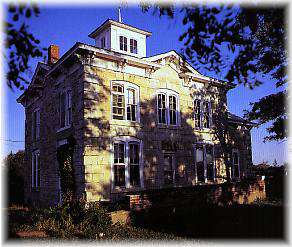 The Israel Beetison House is one of the finest examples of the Italianate style in
Nebraska, and is listed on the National Register of Historic Places. The residence was constructed in 1874-75 of locally quarried limestone by the Dalton Brothers,
local masons, and features a frame cupola on the main portion of the house that was built as a lookout for Indians, but ended up serving a quite different purpose altogether.
Israel Beetison was born in England in 1836 and came to Ashland in 1859 from Massachusetts and settled his 160 homestead acres. He then returned to Massachusetts, married, and in the spring of 1867, returned to Ashland to live. Fourteen children were born to the Beetison's with only eight of them surviving to adulthood. Five generations of Beetison's lived in the house until its sale to Iron Horse Development in 1999.

Address: Located near the Ox Bow Trail

Come visit us in Ashland, Nebraska