category : Historic Courthouses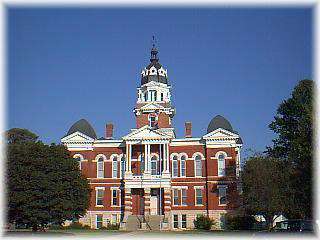 Established in 1857, Johnson County is one of the earliest counties in Nebraska. Tecumseh, which was
designated the county seat, was platted in 1856. The present courthouse dates from the 1880s period of
prosperity and replaced two earlier courthouses built on the square in the fall of 1857 and in 1868, respectively.

In March 1888 Johnson County voters passed a bond issue to finance the new courthouse. Construction began
the same year and the Romanesque Revival-style building was completed in 1889. Listed on the National Register of Historic Places, it is an imposing three-story structure designed by Nebraska architect, William Gray, in the County Capitol style of architecture. Made of cherry red St. Joseph brick and Nemaha County limestone, it has a remarkable two-tiered dome that rises a total of 110 feet from the center of the building. Interestingly, the contractor was not satisfied with the cement used for making the concrete so he had cement shipped from Germany.
The dome is composed of layers of radiating voussoirs, round-arched windows, Corinthian capitals, elaborate bull's-eye windows, a lantern and weathervane. Fine organic carvings form the capitals of the entry columns. Pressed brick squares using a floral pattern provide further textural interest. Based on analysis of a building supply catalog, experts who studied the courthouse when the copper lantern was replaced in 1977, believe that the metal ornamentation of columns, cornices, towers, and the dome was ordered from the firm of Friedley and Voschardt of Chicago. Classical motifs are also present and include Adamesque swags, pediments, dentils, and smooth slender columns.

Address: Downtown Square

Come visit us in Tecumseh, Nebraska