category : Historic Courthouses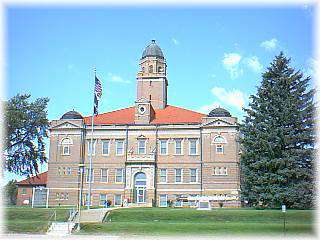 In the early1900s the old courthouse building became inadequate which led to the construction of a new building. In 1903 a vote was held for the issuing of bonds and the construction of a proper kind of building for county purposes. It passed by a vote of 1,967 to 524, but the State Auditor did not approve because the time between the election notice and day of election was short one day. A second vote was held on November 3, 1903, and again the issue passed 3,339 to 1,010.
The cornerstone of the structure was laid on June 2, 1904 at 1 o'clock p.m.. Fisher Lawrie was the architect. Saunders County Courthouse is listed on the National Register of Historic Places.

Address: Highway 77

Come visit us in Wahoo, Nebraska