Kimball, Nebraska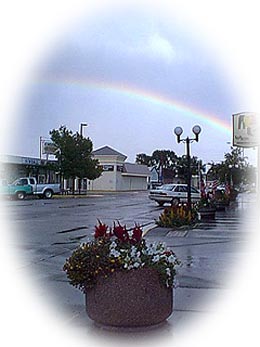 When you visit Kimball, you will find a town with many stories to tell. Kimball began simply as a stop on the Union Pacific Railroad. Freight trains still rumble through town and will remind you of Kimball's humble beginning. Farming was the major source of revenue during those early days, and remains vitally important to Kimball's economy. Driving through the county, you will find family farms surrounded by fields of wheat, sunflowers, and of course, corn.
Kimball was spawned about 1870, and because of the prevalence of antelope, the town was known as Antelopeville. However, confusion arose in 1885 with another town called Antelope, so a change of name was suggested. The influence of the railroad can be attested to with the choice of "Kimball." Thomas Lord Kimball, general manager on the U.P., would sidetrack his personal car and visit friends when passing through town. When the area separated from Cheyenne County in 1888, the county also chose the name.
Early in 1900 a county-wide high school was proposed. Kimball County High School, the first in the state, opened its doors on January 3, 1910. In 1923, in sympathy with the farmers who lost most of their wheat crop, the town sponsored a free lunch and the hotels and cafes served 960 dinners. This was the first "Farmers Day" which is celebrated each year in Kimball.
A "second frontier" started when oil was discovered in 1951. This brought hundreds of people to Kimball County. At one time 28 "producers" were operating within the city limits. The town bustled with improvements, paved streets, added schools, businesses, housing additions, and expanded every governmental entity. Within a decade the population was nearly 5,000.
In early 1960 a mammoth hole was dug south of town and residents viewed the huge Atlas missile taken to the site. In the next few years, people swarmed into Kimball as 90 Minute Man launch sites were constructed. The impact, on top of the oil boom, overwhelmed the city as it faced added city services, more new schools, and trailer villages to accommodate the influx of families. The city coped as the population climbed to nearly 8,000.
Although Kimball is a smaller town now of 2,600, it is not missing any of the amenities of larger cities. Schools operate with smaller classes and merchants emphasize "home-town-loyalty" and boosterism. Kimball boasts fourteen restaurants, eight motels, seven gas stations, and three campgrounds in addition to antiques and regular shopping needs.