Marquette, Kansas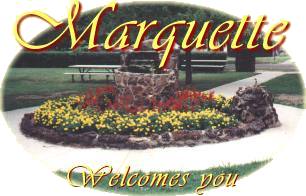 The roads of Kansas stretch for thousands of miles, and carry travelers to as many destinations. And a few of them lead here--to Marquette. Marquette was founded by Swedish immigrants in the 1870's. They saw this beautiful area nestled in the Smoky Hills of south central Kansas, as the ideal place to start a community. Today Marquette's entire downtown area is listed as a Kansas historical site, and as you drive into town you'll immediately see why!
Constructed during the 1880's, most of Marquette's downtown buildings display a decorative metal trim-work meticulously painted in a Scandinavian motif. The painting began as a beautification project for a single building but quickly spread throughout downtown, leaving behind one of the most attractive business districts in Kansas.
From its historic main street with authentic turn of the century stores and buildings, to delightful neighborhoods with beautifully restored and maintained period homes, it seems like time has stood still in this idyllic prairie town. Visit the schoolhouse, stroll through the stores, stop off at the soda fountain, and browse for antiques. Step back in time as we take you on a brief tour of this delightful Kansas "secret" -- discover Marquette!