category : Museums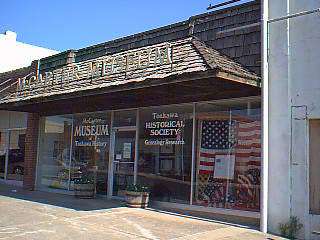 In 1997, the Tonkawa Historical Society purchased a building in downtown Tonkawa to house a museum. Ideally located directly across from Centennial Park, the McCarter Museum of Tonkawa History was opened on July 4th, 1997. The innovative interior layout was designed to tell a series of "stories."

The Museum features:
A Nez Perce and Tonkawa Tribal section,
A gallery of photos of early-day Tonkawa,
Schoolroom,
University Prepatory School-Northern Oklahoma College exhibit,
Depression era kitchen,
Three Sands Oil Field memorabilia,
Newspaper office,
WW2 German Prisoner of War Camp exhibit,
Military Room,
Medical display,
1860's bedroom,
Country church,
1900's parlor and bedroom.
There is a Cherokee Strip corner and a telephone office space.
The Farm Room houses a replica of a sod house interior, a mural painted by well-known artist, Gene Dougherty, a wagon, plows, and many smaller artifacts related to farming, as well as numerous photos of farm homes of a century ago.
A railroad exhibit and a general store are also included.
A small gift shop offers books on local history.
Efforts are being made to acquire a collection of genealogy-related books, microfilm and CD's for use by museum patrons.

Admission: Admission is free.
Hours: Open Thursday and Friday from 11am-1pm; Saturday from 11am-3pm, & by appointment.
Address: 220 East Grand
Phone: 580-628- 2220

Come visit us in Tonkawa, Oklahoma