category : Historic Churches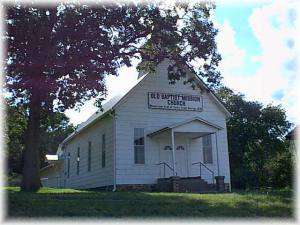 The establishment of the Baptist Mission marked the end of the Cherokee Trail of Tears. Sunday services are still held in the 1888 church. The historical marker on the front lawn reads:
"About 4 miles north and west

Establsihed by Rev. Jesse Busyhead in 1839 and known as Breadtown by the Cherokee, Rev. Evan Jones was missionary in charge. The Cherokee Messenger printed there beginning in August 1844, was the first periodical in Oklahoma.

The mission moved to Tahlequah in 1867. Bacone College at Muskogee, still in operation, is an outgrowth of this school at Baptist and Tahlequah."
Written on the front of the church - " Moved over Trail of Tears from Georgia - 1838"

Address: Located 5 miles North of Westville on US-59

Come visit us in Westville, Oklahoma