category : Historic Courthouses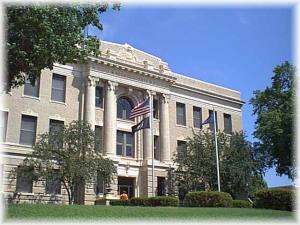 The Richardson County Courthouse, listed on the National Register of Historic Places, was completed in 1925 to replace a wooden courthouse which was destroyed by fire. The then county commissioners commissioned architect W.F. Gernandt to build a fire proof structure for $200,000. Mr. Gernandt chose a Classic Revival architecture design which gives the courthouse of today the atmosphere of grandeur. The exterior of the building has a stately splendor with its pillars and impressive entrances. Inside, the structure has been well cared for with its marble floors and spiral staircases.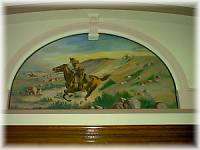 The third floor district courtroom has a unique, historical 'Art Nouveau' work and is a significant example of the style used in interior decorations done by two Danish immigrant artists and interior decorators, James Willer and Charles Hansen. Willer and Hansen interior decorating involved free-hand painting, and also creative designs created by using stencils using either a pattern cut in paper, wood, or metal.
These immigrant artists settled in southeast Nebraska in 1907, and operated the business of Hansen and Willer, the Painters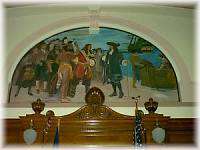 and Decorators. Their interior designs and art work can be found in many cities, including Diller, Beatrice, Fairbury, Wymore, Reynolds, Falls City, and at Creighton University in Omaha. In 1924, while working on the Richardson County Courthouse, they were known as James F. Willer and Company, High Grade Interior Decorating, Painting and Paper Hanging.
- Source, Charles Hansen and James Willer: Danish Interior Decorators in Diller, NE, 1909-1915, Written by Joni Gilkerson

Address: Downtown, 1700 Stone Street
Falls City, NE 68355
Phone: (402) 245-2911

Come visit us in Falls City, Nebraska