Svensk Hyllningsfest
Starting date:
Ending date:
Event# 785-817-2119
Event Details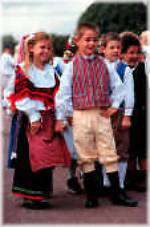 Lindsborg's Svensk Hyllningsfest is a biennial tribute to the Swedish pioneers occurring in October of odd numbered years. The festival features art, crafts, special foods, ethnic music, folk dancing, parade, smorgasbord, and special entertainment. Many of Lindsborg's residents don traditional Swedish folk costumes for the event. Swedish folk dance groups and musicians add to the Swedish flavor of the festival.

Swedish music filters down the streets and through the windows during the three day festival. The first Svensk Hyllningsfest was held in October 1941, to honor the Swedish pioneers who settled in the Smoky Valley in 1868-69.

Festival Royalty is selected from folks over the age of 65, of Swedish descent, who have contributed significantly to the community. Entertainment is non-stop during the three day period. Primarily Swedish music and folk dancing by both local and visiting performers. One much looked forward to part of the program is the Swedish folk dances and games by the grade school and middle school students. The Saturday night entertainment is something you won't want to miss.
Svensk Hyllningsfest
Address :
Downtown Lindsborg
Lindsborg
KS
Phone :
785-817-2119
(Always call and confirm events.)
Web Address :
http://www.svenskhyllningsfest.org
Cultural Festivals
Attractions and Upcoming Events
Things to do near Lindsborg, KS