Trenton, Nebraska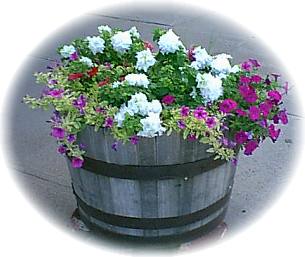 Before Trenton was started, there was a place a quarter-mile west called "Trail City" where people settled along the hillside between Elm and Bush creeks at the cattle crossing on the Republican River. Cowboys working the great herds on the Texas-Ogalalla trail from 1869-84 also "wet their whistles" on their way by. The settlement soon included, besides the saloon, a store, post office, newspaper, school, and assorted homes and barns made of sod or dug into convenient hillsides. This area is presently known as the Pow-Wow grounds, where Indians held their dances from 1923 to 1956.
Trenton was incorporated in 1887 with a population of 239. More settlers arrived on every train, and promoters began to clamor, "...Culbertson must give up the county seat." In 1894, after three elections, Trenton was voted the new Hitchcock County seat. On the night of October 1, 1893, "...brave men, with an order from District Judge Uelty, drove to Culbertson with lumber wagons and took possession of the county records." The matter is still not a safe topic of discussion, for obvious reasons.
The first courthouse in Trenton was a small building (now a Hitchcock County Museum). A fine brick courthouse was built in 1906 and served until 1969 when a third building was constructed.
In 1935, Trenton's 50th anniversary, the local paper boasted, "...it is a beautiful little town with fine homes and business houses, white way lighting system, fine school, modern churches, graveled streets, curbs and gutters, and nearly 900 happy people residing there."
Trenton was inundated by the 1935 flood on the Republican. A dam built in 1949 closed the original rail line to the town. The old depot is still at its original location, but has been painted pale green instead of the traditional Burlington-red. It stands empty as does a small brick depot built on higher ground in 1952 along the present Burlington-Northern route north of town to Denver.
Trenton's peak population of 1,300 was recorded in 1950, with the current population at 507. As the center for government, related businesses and services provide a degree of economic stability. Agriculture continues to be the primary industry and the recent addition of a large Ethanol plant operated by Trenton AgriProducts,LLC. This facility provides a substantial impact to the Southwest Nebraska economy. Local producers provide approximately 16 Million bushels of corn each year to make approximately 45 million gallons of Ethanol plus distillers grain for cattle feed.