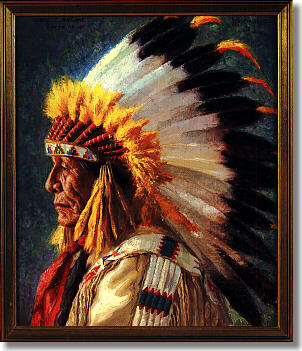 From early tribal tradition, and from the research of archaeologists and historians, and the ancestors of the Osage, we know that this tribe of Indians was closely affiliated with the Siouan, or Dhegiha tribes,
their dialect being much the same.
The name, Osage, is a corruption of the tribal name, Wa-Zha-Zhe, that the Indians used themselves, the meaning and derivation is not clear.
The first recorded note of the Osage was by Marquette in 1673. His writing placed them on the Osage River in present Vernon County, Missouri, where they were still established, nearly 100 years later in 1759.
There is little known about the Osage from this time until the treaty at St. Louis in 1804. Here we find the explorers and French traders marrying into the Osage tribe. Almost from the beginning, trading with the Indians became a lucrative enterprise, for the white man and the spead of trade brought a large number of tribes into contact with the French, Spanish and English. All groups trying to make allies among the Indians.
The Osage signed their first treaty with the United States in 1808, ceding to the Federal Government lands new comprising over half the state of Missouri and northern Arkansas, including their old village located on the Little Osage River.
When the Osage signed the treaty of 1825 at St. Louis, they ceded all their lands to the United States, all of Oklahoma north of the Arkansas and Canadian Rivers, northwestern Arkansas, western Missouri and nearly half of Kansas.
Osage County
today is the largest county in Oklahoma. Big Prairie? Imagine the vastness of 37,000 acres of prairie, disturbed only by the thunder of more than 800 bison. This is the Nature Conservancy's Tallgrass Prairie Preserve, lying just 17 mile north of Pawhuska. At one time, the American prairie spanned across fourteen states. Now, less than 10% of this original prairie remains, but the prairie surrounding Pawhuska is still flourishing. On the Tallgrass Prairie alone, over 600 plant, 300 bird, and 80 mammal species have been identified. Film teams from around the world have discovered the Tallgrass Prairie as a place of ecological richness and uncommon beauty.
Real Cowboys? Over 250,000 head of cattle thrive on the bluestem grass on over 1,000 ranches around the county. Numerous rodeos and ropings throughout the year give these real American cowboys the chance to showcase their immense skill to the public.
Explore Osage County
Explore Osage County