Wilson, Kansas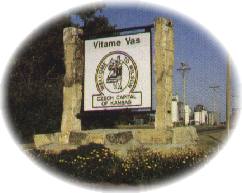 From the Butterfield Overland Express of 1865 and the Wilson station of the Union Pacific Railroad in 1868, to the "Czech's" Bohemians of 1874, this town has gone by three different names. At first it was known as Attica, then Bosland, then was named "Wilson" by the U.S. Post Office in 1874.

Wilson is known as the Czech Capital of Kansas because of the heritage that settled here. Occasionally one can meet citizens of Wilson who still know the native tongue.

The Czech's are known for their hard work; which is represented in the quarried post-rock one finds in the buildings and fence posts. Today twenty-two of those buildings are still standing and many house businesses nearly 100 years later.

Wilson is the Gateway to beautiful Lake Wilson, which is a man-made lake of 9,000 acres of clear blue water. One can enjoy fishing, boating, camping, nature walks, and swimming.

You are also in "Post Rock Country" where tours are available for around town, in the country and through the shops. (By appointment, please.)


---
Attractions near Wilson, Kansas
Course Access: PrivateHoles: 18Reserve Advance Tee Times: 1 days...
A short distance east of Point of Rocks is Middle Springs, a small oasis on the prairie where water rises from an ever-flowin...
---
Wilson Kansas Related Videos
Catch a Ghost Tours of Kansas invites you to Join Us to investigate paranormal activity at the historic Midland Railroad Hotel located in Wilson, Kansas. Fin...
Smoky Hills Public Television's Scoreboard Show Kansas High School Sub-State Volleyball from Wilson, Kansas. Featuring teams from Beloit-St. Johns/Tipton , N...
Wilson Glove Day with the Kansas City Royals where Wilson Baseball gloves are handed out to our MLB players. Wilson Baseball gloves like the A2000 and A2K mo...
Switchgrass MTB Trail Wilson Lake Kansas.
video by http://www.rv52.com - We could not tell if this park was in business or not? What do you think?
Round 2 match of the 2013 USAW Junior Freestyle Nationals with Spencer Wilson from Kansas vs Aaron Thomson from Utah at 182 lbs. Copyright USA Wrestling 2012...