Salina, Oklahoma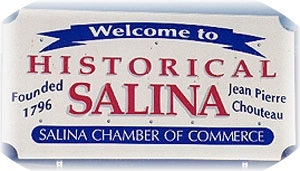 Salina sits on beautiful Lake Hudson, rated in 1994 as Oklahoma's number one Black Bass fishing lake, and the surrounding environment is lush with native plants, wildflowers, and trees. The dense deciduous forests prevalent in this region provide a safe and natural habitat for the abundance of wildlife that can still be found. The terrain is very hilly, and somewhat mountainous, and this vast expanse of land is considered to be a part of the foothills of the Ozark Mountains. Its natural beauty is spectacular and the Salina area truly lives up to the nickname of this region known as Green Country.

Salina was originally established as a trading post of Major Jean Pierre Chouteau in 1796 along the banks of the Grand River, which is now Lake Hudson.It is the oldest permanent American settlement in the state of Oklahoma. The name Salina was derived from saline, which came
from the local salt wells in the vicinity.

As a result of heavy fur trading between the Osage Indians and the new settlers from St. Louis, Missouri around 1802, Salina thrived and grew into a prosperous community frequented by many travellers. The trading post served as a general store for the rough territory. and, in recognition of Major Chouteau, Chouteau Day (a state holiday) is celebrated each year the Saturday on or before the 10th of October.

---
Attractions near Salina, Oklahoma
Founded in 1897 and the only historically black college in the state. ...
FALLEN HEROES OF WASHINGTON COUNTY EXHIBIT AND MEMORIAL SERVICE Men have been defending our American soil for over two ce...
---
Salina Oklahoma Related Videos
Salina (pronounced /səˈlaɪnə/) is a town in Mayes County, Oklahoma, United States. The population was 1422 at the 2000 census. In 1541 the Spanish explorer ...
Madison riding a tube down the waterfall at Bluehole in Salina, OK filmed with HERO3+ Black Edition.
First time to actually water detect this year, and I hunted the Snowdale park in Salina on Lake Hudson. Just dug some modern coins with a little bit of trash...
World of Outlaws sprintcars at Salina Highbanks Speedway in Salina, OK on Tuesday May 3rd, 2011 highlights. To see more video's or to purchase this full even...
Short clip of the sunset at Lake Hudson in Salina, Oklahoma.