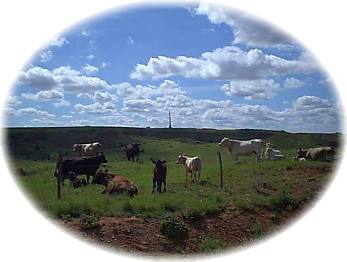 Lakin
was one of the eight locations between Dodge City and the Colorado state line designated in 1872 by the A.T.& S.F. railroad as stations for the service of the new road.
The city of
Lakin
was founded in 1873 by John O'Loughlin to serve the needs of the pioneer spirit sweeping the nation. The O'Loughlin Trading Post, as it was then called, did a thriving business with government troops, freighters, buffalo hunters, cowboys and with Indians. Famous chiefs including Little Robe, Black Kettle, Satanta, Dull Knife and Little Raven led their warriors along the white man's road.
There was never a dull day on this highway. General Sheridan was stationed at Fort Hays, and used it as a base against the Indians.
The city was named after David Long
Lakin
, who was a trustee for the railroad company.
Cattlemen established ranches up and down the valley, driving thousands of head from Texas and Old Mexico, fattening them on the vast pastures of buffalo grass and shipping them out by rail.
Lakin
became a shipping point for all southwest Kansas.
Lakin Kansas Related Videos
This video is dedicated to the memory of Maggie Melynn Olson from Lakin, Kansas. Maggie was in an automobile accident on March 3rd, and left this world the n...
By: Andy Waldrop
Duration: 4.53
min.
Views: 372
Rating: 5.0
An unexpected dust storm forces us off the road. Zero visibility. 80-90 mph winds reported. Taken May, 2010.
By: hafler12
Duration: 1.02
min.
Views: 484
Rating: 0
Tornadoes around Lakin, KS. A total of 6 were see for the day. Be sure to watch part 2 for long lived stove pipe tornado.
By: TornadoRaiders.com
Duration: 10.22
min.
Views: 645
Rating: 4.3333335
REPORT LINKS: LTC Terry Lakin Denied Kansas Medical License for Challenging Obama's Eligibility: Same Board Approved License for Doctor that Killed Patient -...
By: BirtherReport.com
Duration: 15.43
min.
Views: 1273
Rating: 4.8333335
By: Jennifer Meyers
Duration: 0.78
min.
Views: 167
Rating: 5.0
Riding the river, testing the XTC action Cam with different mountings.
By: semisocial1
Duration: 3.38
min.
Views: 78
Rating: 0
Smoky Hills Public Television's Scoreboard Show Kansas High School Golf at Lakin, Kansas. Featuring Golfers from Goodland, Holcomb, Lakin, Larned, Liberal, S...
By: Smoky Hills Public Television's Scoreboard Show
Duration: 1.03
min.
Views: 76
Rating: 0
Este video se subió de un teléfono Android.
By: Gabriel Granillo
Duration: 2.03
min.
Views: 102
Rating: 0
By: footballb8wayne
Duration: 0.32
min.
Views: 303
Rating: 0
10 miles north of Lakin, KS.
By: Derek Shaffer
Duration: 1.27
min.
Views: 1276
Rating: 4.3333335