category : Museums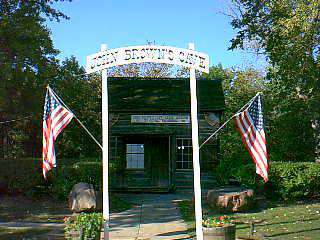 The log home of Allen Mayhew is the oldest-known cabin in Nebraska and an important piece of American history. The cabin was built in 1850 and houses furnishings typical of the pioneer homes. Allen Mayhew, his wife, and their six sons lived in the cabin, along with John Henry Kagi, Mrs. Mayhew's brother.

The Kagi family believed in abolition which lead them to dig a cellar under the cabin and a tunnel that led from the cellar to a ravine just west of the cabin. John Kagi was well affiliated with John Brown, a staunch abolitionist who led the raid on Harper's Ferry. Because of the friendship between Brown and Kagi, and the use of the cellar and cave to hide and move slaves on the underground railroad, the cabin is now known as John Brown's Cave.


Admission: $6 for adults and $3 for children.
Group tours welcome. Group rates available.
Hours: Open every day April 1 - November 30
Mon-Sat 10am - 5pm
Sun Noon-5pm
Phone: (402) 873-3115

Come visit us in Nebraska City, Nebraska
Genealogy & history research library, log house & barn, school, church & caboose, memorial gateway, county records books on i...