category : Carnegie Libraries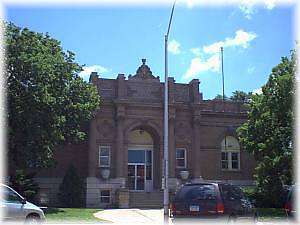 The original Carnegie Library, built in 1902-3, is an outstanding example of the Beaux-Arts style, designed by architect, George A. Berlinghof, and is listed on the National Register of Historic Places. The establishment of a permanent library was due to the efforts of the Beatrice Literary Club, founded in 1890, which continued the earlier efforts of the Women's Christian Temperance Union. In 1902, the library board obtained a $20,000 grant from Andrew Carnegie. A grand opening was held on January1, 1904, to celebrate the new building's completion.
Since 1991, it is no longer used as a library as a new library building was built to house the volumes of literature available to the public including the 3000 volume Nebraska State Genealogical Society Collection. Furniture from the Carnegie Library was transferred to the new library.

Address: 218 N. 5th

Come visit us in Beatrice, Nebraska