category : Recreation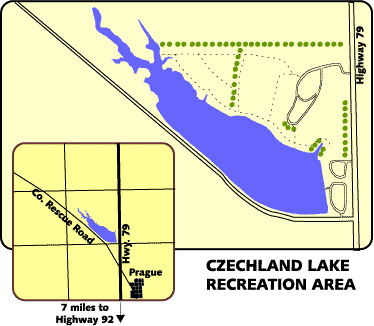 Czechland Lake Recreation Area is a multipurpose reservoir located one mile north of Prague and 15 miles northwest of Wahoo, Nebraska on Highway 79. The area offers a variety of outdoor activities for all seasons.
The 82-surface-acre lake is situated on 177 acres of public access land and is a popular site for fishing, hiking, picnicking, wildlife watching, no-wake boating, and RV and tent camping. The recreation area is owned and operated by the Lower Platte North Natural Resources District; park permits and fees are not required for use of the area.
In addition to flood control, the lake was developed to support recreation and education. Each spring, the lake hosts the NRD's Spring Conservation Sensation, a natural resources festival for elementary students. A number of school tours are also held at the project site each year.
Day Use
Three day use areas are available at Czechland Lake, and include picnic shelters, grills, fire rings, restrooms, and playground equipment. No park permits are required for entry to the recreation area.
Camping
Rough it in your tent or relax in your RV; Czechland Lake has facilities to accommodate both types of campers. The RV camping areas have picnic tables, grills, and restrooms, and the tent camping area has restrooms and fire rings. Camping is free; stays are limited to 14 days.
Fishing
The Czechland Lake fishery is managed by the Nebraska Game and Parks Commission. The lake was initially stocked with catfish, bluegill, northern pike and largemouth bass. A valid Nebraska fishing license is required to fish, and all state fishing regulations apply. Minimum size limits of 15" for largemouth bass, 10" for crappie, and 8" for bluegill are in effect. Catch and release is encouraged to maintain a healthy fish population.
Hunting
Upland game hunting is allowed on the northwestern side of Czechland Lake Recreation Area. All Game and Parks hunting regulations apply.
Hiking Trails & Wildlife Habitat
More than 12,000 trees and shrubs have been planted at Czechland Lake since 1988, along with a variety of native grasses and forbs. The plantings provide wildlife habitat, erosion control, and beautification, and can be viewed by walking the hiking trails on the north side of the lake. The trails connect the three day use areas with the tent and RV camping areas.
Come visit us in Wahoo, Nebraska