Hugo, Oklahoma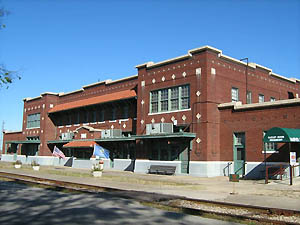 In 1902 the Frisco built an East-West line from Hope, Arkansas, to Ardmore, Oklahoma, creating the territorial town later named Hugo. Almost overnight with the completion of these two strategic rail lines, tents and Conestogas converged on the new territory. A local rail depot was the center of attention with trains coming and going all day long. The Harvey House Restaurant in the Depot grew in popularity. There were dance hall girls, hustlers and gunfighters. The city of Hugo was named by the wife of a local surveyor, W.H. Darrough. Mrs. Darrough was a fan of French Novelist, Victor Hugo and she recommended the name "Hugo."
In the late 60s Hugo was designated as the termination point of the Indian Nation Turnpike, which provides a major transportation artery to northern and central Oklahoma. About the same time, Congress authorized the construction of the fabulous Hugo Lake, a 13,000 acre hot spot for fishing and camping enthusiasts. Most recently, Hugo has won distinction as one of only 30 rural Enterprise Communities in the United States.
Capitalizing on its railroad heritage, the Hugo Heritage Railroad was formed in 1992, and operated as Oklahoma's only excursion passenger rail tourist attraction, but in 2002 the rails were purchased by private operations and access was denied. Renovation of the Hugo Depot and Museum is continuous with the reopening of the old Harvey House Restaurant, and once again patrons can experience the excitement of turn-of-the-century rail travel in Hugo.
Hugo also proudly lays claim to being the home and winter quarters of three of America's largest Circuses: Carson & Barnes; Kelly-Miller Brothers; The Chinese Imperial Circus. Hugo's Mount Olivet Cemetery is internationally famous for its Showman's Rest section which includes a special section of Circus Tents and Animals as monuments to the men and women who spent their lives entertaining American children and families as Circus performers.
The citizens of Hugo welcome you to the history-rich community.