category : Museums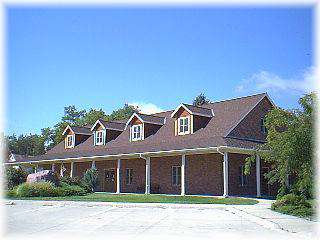 Experience Saunders County history through its complex of seven buildings and caboose on 5 acres of land.
The Main Building completed in 1994 and the newer Anderson-Nelson addition house displays and exhibits about Wahoo's well-known native sons Darryl F. Zanuck, co-founder of 20th Century Fox, Clarence Anderson, artist; Dr. George Beadle, geneticist; Sam Crawford, baseball player; and Howard Hanson, composer. The new addition features a gift shop which includes books by Nebraska authors and crafts by local residents.
Kavan Log House - Built in 1873 by Frantisek and Terezie Kavan, this one-room home was made of logs held together by chinking made of clay mud and grass and dovetail notches. A second story room, which was reached by a ladder on the outside of the home, was used to store grain.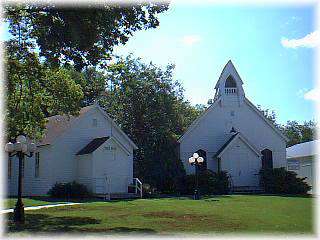 District 42 Schoolhouse - The district was organized in 1878, but this building dates back to the 1890s. Classes were discontinued in 1970, with the district disbanding in 1973.
Weston Presbyterian Church - Much of the woodwork in this church is from the original building of 1889. Built for use by a Methodist Episcopal congregation in 1889, it was later sold to the Presbyterians in 1920. From 1920-1948, all services were performed in Czech.
Agricultural Building - The largest building on the grounds, the Agricultural Building is home to a variety of horse-drawn farm machinery and equipment used in the early days of farming.
Memphis Post Office - The Post Office was established in 1888. This building was used from 1950-1988 and was the smallest post office in Nebraska.
Wahoo Burlington Depot - The first train stopped at the depot in 1887, one year after it was built. The two-story building includes a waiting area for travelers and a home for the depot agent. Use of the depot was discontinued in 1973. Burlington Northern Railroad donated the building to the Museum in 1974. It is listed on the National Register of Historic Places.
Caboose - This caboose, built in the 1920s by the Santa Fe Railroad, is made of steel, and includes a stove, beds for the brakeman, and a desk for the conductor.

Hours:
April thru October, Tuesday - Saturday, 10:00 am - 4:00 pm

Address: 240 N. Walnut (Highway 77 and 3rd Street) - 1 block South of the Courthouse
Phone: 402-443-3090

Come visit us in Wahoo, Nebraska