category : Pioneer Life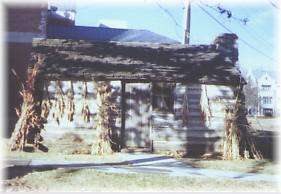 [Kibbee Cabin] The Kibbee Cabin is a reproduction of a log cabin which stood on the crest of the Santa Fe Ridge (commonly called "Big Hill") north of Baldwin where a group of Methodist ministers met to form Baker University in 1857. It was also the site of the first sermon preached by the church to white settlers in Kansas. Lucius Kibbee, who originally owned the cabin, was acquitted in Kansas' first manslaughter trial for killing a proslavery neighbor who attacked him because of Kibbee's stand against slavery.

The floor and some of the furnishings are from the original cabin.

Address:
5th Street, Elm and Fremont
Come visit us in Baldwin City, Kansas
Travel Advertising