category : Historic Courthouses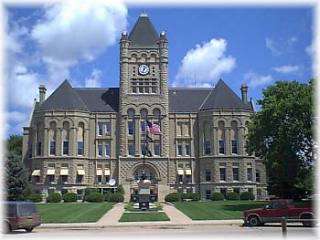 This limestone Richardson Romanesque structure with a
clock tower was erected in 1890-1892, and has served as the location for the administration of local government and institutions for Gage County for over 100 years. The building, a fine example of the County Capital Style, was listed on the National Register Historic of Places in 1990.
Visit the Board Room of the Gage County Courthouse and see the
"Courthouse Art". These murals were painted by artist Dee Johnson of
Oakland, Nebraska and represent the history and lifestyles of early Gage
County.
When Laura Ingalls Wilder was making her move from south Dakota to Missouri, the Gage County Court House was
mentioned in her diary on Sunday, August 5, 1894.

Hours: The Courthouse is open 8 a.m. to 5 p.m., Monday through Friday. Call if you'd like to schedule an appointment.
Address: Downtown Square, 6th and Grant
Phone: 402-223-1300

Come visit us in Beatrice, Nebraska