Please help promote Wild West Country Travel :
Wild West Country, Kansas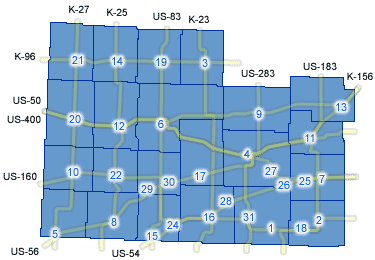 This is a land of wide-open spaces, of prairie grasslands and flaxen-colored wheat fields that stretch as far as the eye can see. This is the place where the real "Wild West" began. Where buffalo hunters and cattle rustlers stirred up a ruckus in Dodge City, once called the "Wickedest Little City in America." Follow in the tracks of great lawmen like Wyatt Earp, Bat Masterson and Doc Holiday. Or track down the 100-year-old secrets of the little town of Meade, where the infamous Dalton Gang once hid out. Wild West Country is a land of big horizons and large-scale wonders, such as Mighty Samson, the largest bridge of its kind in the world. The largest hand-dug well in the world. The largest meteorite of its kind. In Wild West Country, there's room to stretch your legs and your imagination -- with plenty of folklore and generous helpings of hospitality.