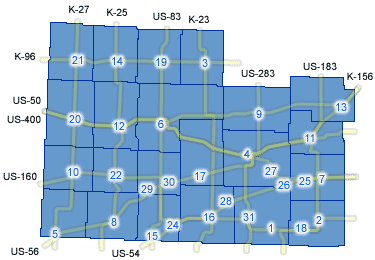 This is a land of wide-open spaces, of prairie grasslands and flaxen-colored wheat fields that stretch as far as the eye can see. This is the place where the real "Wild West" began. Where buffalo hunters and cattle rustlers stirred up a ruckus in Dodge City, once called the "Wickedest Little City in America." Follow in the tracks of great lawmen like Wyatt Earp, Bat Masterson and Doc Holiday. Or track down the 100-year-old secrets of the little town of Meade, where the infamous Dalton Gang once hid out. Wild West Country is a land of big horizons and large-scale wonders, such as Mighty Samson, the largest bridge of its kind in the world. The largest hand-dug well in the world. The largest meteorite of its kind. In Wild West Country, there's room to stretch your legs and your imagination -- with plenty of folklore and generous helpings of hospitality.

Explore Wild West Country
Enjoy your stay at Syracuse with a visit to the Hamilton County Museum. There are many exhibits displayed in cases as well as period rooms set up to give you a glimpse of life at home for the early pioneers of the western plains.
Enjoy these attractions:
Syracuse, KS
Museums
---
---
---
The course, 9 holes with grass greens, was one of the first in southwest Kansas with an underground sprinkler system and bluegrass fairways. It\'s located at Louck\'s Park.
Lakin, KS
Golf Courses
---
---
Clark County Lake is nestled in a rugged area of Clark County southeast of Minneola. This 337
Minneola, KS
Recreation
---
The Cimarron National Grassland stretches as far as the eye can see, and is available for public hunting. A major drawing card for hunters is that the Grassland is the largest parcel of public land in the state of Kansas. There are 108,175
, KS
Hunting
---
In 1912 Henry W. Fromme, a German immigrant, hired William "Pat" Campbell, a local carpenter, to build a large round barn to house 28
Mullinville, KS
Historic Buildings
---
While enjoying your stay in Lakin, stop and relax at Lakin City park. With a swimming pool, basketball facility, and a playground, everyone is sure to be pleased.
Lakin, KS
Recreation
---
Prior to Tornado Disaster - May 4, 2007
Kiowa County State Lake is a 21 acre lake with fishing, picnic, camping & rest areas.
Greensburg, KS
Recreation
---
The Kansas Historical Marker stands within a geological feature known as the Big Basin, which is a sinkhole or "sink"
Minneola, KS
Nature Preserves
---
Hodgeman State Lake & Wildlife Area is located 4 miles east of Jetmore on Highway 156, then 2 miles south. The State Lake measures 87 acres, which are periodically dry. When water is present the lake is stocked. The Wildlife Area encompasses 254
Jetmore, KS
Recreation
---
Explore Wild West Country